I am going to be the next big Youtube success 😉 nah not really! We decided we wanted to start doing a weekly meeting about what has been happening in the world of Education Technology and thought it would be good to share it online. So we came up with Catch Of The Day. In Catch Of The Day (#DHSBCOTD) we get fresh fish and chips from our excellent school catering (Refuel) then just have a chat about Edtech.
We are currently broadcasting on a Friday at 12pm using Youtube Live Events which uses Google Hangouts On Air.
It is so simple to get started broadcasting live. All you need is a computer with a mic and webcam and that is it! Go to the Youtube Live Events page and create a new event. You will see the below screen.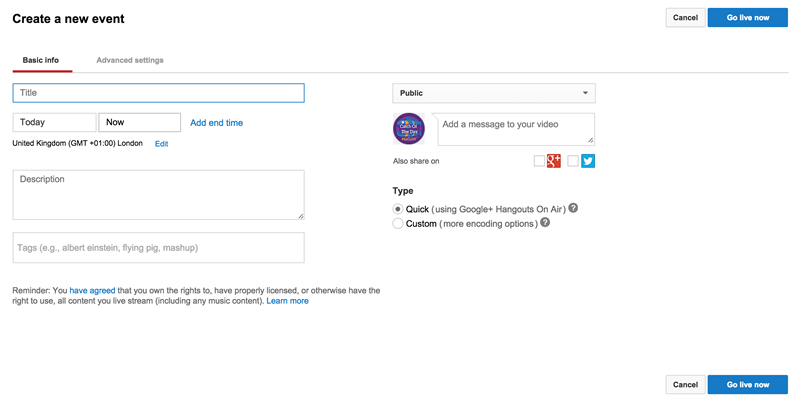 You can create an event and start immediately or you can schedule the event to start in the future (don't worry it still doesn't start without you clicking start). Once you have created your event you can share the link with people so they can connect to your live session.
When you click Go live now it will open up a Google Hangout and you can click Start Broadcast. While you are live you can use all the features of Google Hangouts e.g. Screen sharing and it also lets you know how many viewers you have.
Once you have finished your live stream it automatically gets stored on Youtube so that anyone can watch it later.
I hope you might try it out, teachers could even record their lesson using it and then students that are away could tune in live or re-watch the lesson from home at a later date.
You can see our Catch Of The Day series here, or tune in next Friday