Creating newsletters or fliers of what is happening in your school is not a new thing. The ability to create awesome looking ones really easily and simply is! I have been using Smore for a little while now and it is a great way to put together quick online/email newsletters/fliers.
Smore markets itself as a service for creating online flyers, but it's a little bit more than that. Smore could be a great way for extracurricular clubs, teams, or PTAs to build simple announcement pages and call to action pages for group fundraisers.
After you pick a template, you can start to fill in the details of what you want to create. The nice part is that even though there are set items in a template, they can be moved around or can even be taken out if you don't want to use those pieces.
Here is my a recent flyer I created for the Learning Commons https://www.smore.com/xjs2e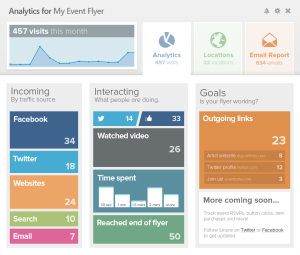 For me the killer feature has to be the analytics! You can now see exactly how many people are seeing your newsletter and even how many times they go back to it! Give it a try for free and if you like it, then as an educator you can get a very hefty discount!